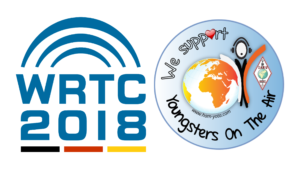 We got the opportunity by the WRTC organizers to be part of the ham radio Olympics 2018 in Germany.
The World Radiosport Team Championship takes place every 4 years in another country.
During IARU HF Championship contest 63 teams from all over the world participate to find the world champion.
Now we have the possibility to send 20 youngsters aged 16 to 26 to be part of the WRTC volunteer team at this mega event located in Wittenberg area. Meet some of the worldwide best-known contesters and have an eye to eye contact with them.
Use your chance and make it yourself a lifelong memory.
Be a part of the Youngsters On The Air team at WRTC 2018 in Germany!
If you want to join fill in the following link.
https://goo.gl/forms/tb2jP6DSdqwwLOgf2
73 de YOTA PR Team
| | |
| --- | --- |
| Place | Youth Hostel Wittenberg |
| Time | 11.07. (arrival) – 17.07.2018 (departure) |
| Costs | accommodation and breakfast covered |
| Application deadline | Friday, 29.06.2018 (2359 UTC) |
DATE
TASKS and SCHEDULE
Whole time
Occupation of the HQ station in the Luther Hotel
(radio operation / support in shifts)
11.07. or 12.07.
Meet youth teams
12.07.
– Afternoon
Support of the organization of the opening event- — Evening
Opening event
13.07.
– Afternoon
WRTC Academy – Open Format Competition and WRTC Training, Presentation and Workshops
16.07.
– Morning
Meet WRTC competitors especially youth teams
– Afternoon
Support of the organization of the final event
Special task for "Jugend forscht" science project
Implementation of remote operations for the WRTC competition, which can lead QSOs out of the Luther HQ Hotel with the WRTC stations during IARU HF Championship.