TTT Report October 2019
The Italian situation is quite stable and waiting for the new national committee to set up (we had ARI committee election in this summer), the group of youngsters has slightly increased with a new member from Bologna. One of the goals of the new committee is to change some details in the way that ARI sees the YOTA project and the youth in general, they created a "radio club" allowing all young guys (YOTA, Scouts and school) to take part at the ARI events. The next step (we hope) will be to make a dedicated reduced fee to take part of the national association, as for today is quite expensive (around 70 euros).
The summer was mostly dedicated to the preparation of the LZ19 camp, we then had a meeting in Prato (the hometown of Amelia IU5LVM – the Italian lady that went to the camp) explaining the camp, the activities that has been done and our feelings after the camp.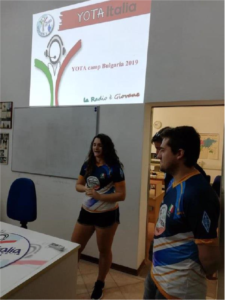 YOTA Italy October 2019
Other Projects:
–  Some Youngsters took place in big ham radio stations during the last contest, such as IO2HQ
–  A significative amount of youngsters participated to the "alpe adria VHF/UHF contest" which now

has a specific chart for young people. Future Projects:
–  From 17th to the 20th of October YOTA Italia will be present at the Maker Faire in Rome, a big event which will give us the opportunity to meet a huge number of young guys interested in electronics and informatics, our goal (in partnership with the national association) is to try to give some interest in ham radio to more people which basically shares our hobby.
–  In the last weekend of November there will be a big fair in Pescara (center of Italy) and we're looking forward to be there
–  In December we have 7 youngsters that are going to be in the PA19 subregional camp