Youth Contesting Program (YCP)
In 2018 the Youth Contesting Program (YCP) of IARU R1 will be continued. Youth members from IARU R1 member societies are invited to take part in a contest from so called "Top-Gun" stations. These young HAM's will learn how to operate the contest station, improve their contest skills and will aim for the best results together as a team.
A youngster will probably be coming for the first time to the host country and will get the chance to experience this country and share amateur radio knowledge with local youngsters.
Contest locations:
ES5TV: ARI International DX contest (5-6 May 2018)
9A1A: CQ M International DX contest (12-13 May 2018)
EC2DX: His Maj. King of Spain contest (23-24 June 2018)
4O3A: CQWW RTTY contest (29-30 September 2018)
Do you want to take part in of the contests from these stations? Apply here.
Read stories and watch pictures of previous events to get a feeling of what to expect.
Rules:
Young people aged under 26 years.
1 or 2 participants per member society
All levels of contest experience are accepted. A participant should have at least basic knowledge about contesting and using a transceiver.
Member societies are asked to select young people who are  willing to experience a contest in a "big-gun"station, eager to learn more about amateur radio and who are aiming to get the best results out of the contest. A group of ±6 international youngsters and ±6 domestic youngsters will take part per contest.
Participants are asked to fund their own travel costs. All other costs will be covered.
When taking part in a 24 hours contest the participant will arrive on Friday and leave on Monday.
This is an example time schedule from 9A1A: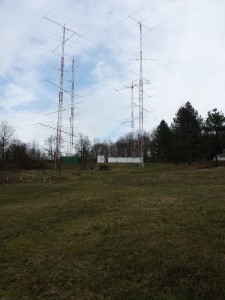 Friday: Coming to host city (in our case Zagreb ). Social event in late afternoon and
evening hours. Sleeping  in one of Zagreb hostels.
Saturday – Sunday: Travel to contest location (in 9A1A case cca 40 km). Introduction of
contest location capacities and possibilities. Team will take part in the contest.
Team will sleep on Sunday/Monday night on contest location.
Monday: Travel to home.