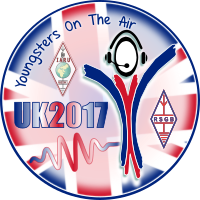 APPLICATIONS YOTA 2017 ARE CLOSED
The 7th edition of Youngsters On The Air will take place in the United Kingdom. The Radio Society of Great Britain (RSGB) will be hosting this event led by its very own Youth Committee and supported by a dedicated organising committee.
The venue will be Gilwell Park, the home of Scouting, set in many acres of woodland north west of London, and easily accessible from a number of airports, the railway network and with good road access. The site has some great facilities and a dedicated radio shack, complete with a number of antenna towers and beams.
2017 will see a week of activities that comprises of a great mix of amateur radio related activities and general fun! Here's a brief summary from the draft activities plan:
– Intercultural evening
– Visit to the historic Bletchley Park (home to the National Radio Centre and the codebreakers who managed to crack the Enigma code)
– A day in London to explore its Science Museum, famous landmarks, and maybe do some souvenir shopping
– Building your own radio kits
– UK Foundation Licence Practical Assessments and Exam
– Build your own radio receiver
– Take part in the EU HF Contest
– Operate the GB17YOTA station
– Antenna Building & SOTA Activation
Much more to come! It will be a great experience for all participants which they will never forget. To get a better feeling about this, have a look at the gallery and movies from previous events.
When: 5th to 12th August 2017
Participants:
Each IARU R1 member society is invited to take part with a team. A team may consist of maximum 3 people, 2 people with the age 15-25 years plus one person who is dedicated as team leader.
All participants, including team leaders, should take part in the entire program.
We ask member societies to select motivated participants and preference to participants who have not attended a YOTA camp before.
Team leaders:
Team leaders should be appropriately qualified to lead young people and also able and willing to take part in the activity programme.
A team leader must be in the age range 18-30 years, the ability to manage a team of youngsters is most important.
Location: Gilwell Park, North London.
Fees: €50 per participant
All other costs (accommodation, food, activities) will be covered.
Travel to the UK is the responsibility of the visiting Team. The event will collect Teams from local airports (Luton, Stanstead, Heathrow) or Chingford Railway Station.
If your member society is interested to participate, please respond to [email protected] by 31st December 2016 by sending in this application form. Remember, there is a limit of 80 participants. Make sure you will apply in time. We will announce the participating countries shortly after the deadline.
For any questions, please contact [email protected]